Bluetooth Sensodroid T-2400 Bluetooth Reader


Bluetooth, QR and barcode reader compatible with Android, iOS, Windows, Linux and other systems. Reads all common 2D and 1D codes. More
Product code: T2400 Shipping and Payment
Wireless bluetooth QR reader Sensodroid T2400 packed with USB bluetooth 4.0 adapter. The barcode reader ensures accurate reading of codes for phones, tablets or PCs. Can be connected to Android, iOS, Windows, Linux. The wide reader settings make it one of the top class. The option to set the shutdown time, save up to 10,000 barcodes to memory and other features will be offered by only the sensodroid T-2400 bluetooth reader. Scanning speed up to 100 scans / sec. Ergonomic handle ensures firm grip and easy reading of codes. The rubberized head and handle and IP52 cover allow reading even after a repeated fall from a height of 1.5 m. Charging with a USB cable.
Reader Features:
Bluetooth wireless reading of 1D and 2D codes
Bluetooth adapter in basic package
Compatibility Android, Iphone, Windows, Mac, Linux
Speed ​​up to 100 scans / sec
Set the shutdown time
Read all known 1D codes and QR codes
Power with built-in rechargeable battery
The ability to store up to 10,000 barcodes
Specifications:
Range (without barrier) 15 - 20M
Optical probe 620 nm visible red light diode
CMOS sensor
Image resolution 752 × 480Pixel
Minimal contrast ≥30%
Codes
2D PDF417, QR Code (model 1/2),
Data Matrix (ECC200, ECC000,050, 080, 100140)
1D Code 128, EAN-13, EAN-8, Code 39, UPC-A, UPC-E, Codabar,
Interleaved 2 of 5, ISBN, Code 93, UCC / EAN-128, GS1 Databar,
Decoding speed is 300times / sec
Barcode
Sensitivity Tilt ± 55 °
Rotation ± 25 °
Deviation ± 75 °
Data Interface RJ-45
Mechanical and electrical parameters
Dimensions (length x width x height) 92.5 x 70 x 154.6 mm
Weight 140g
Indicator Siren and LED light
Battery capacity 600mAh
Maximum power 1750mw
Operating voltage DC5V
Current Max.Current 350mA
Operating current 325mA
Standby Current 53mA
450mA charging current
Accessories list
USB data cable
Wireless Receiver 1
CD 1
Instructions for use 1
Environment
Storage temperature -40 ° C ~ 60 ° C
Working temperature 0 ° C to 50 ° C
Relative humidity 0 ~ 95%
IP class IP52
Certificates
CE, RoHS, EMC, LVD, ISO9001: 2008, ISO 14001: 2004
Last visited (1)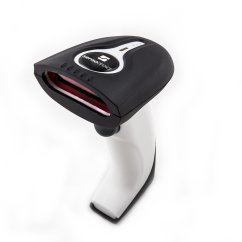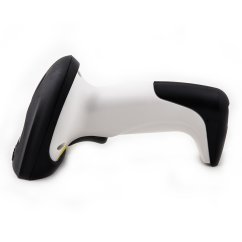 Není skladem
178.47 USD
178.47 USD
excl. VAT
| | |
| --- | --- |
| Sensor | CMOS |
| Interface | Wireless |
Bluetooth, QR and barcode reader compatible with Android, iOS, Windows, Linux and other systems. Reads all common 2D and 1D codes.