Cordless Sensor T-1300 CCD Barcode Reader (433 MHz)


The T1300 wireless reader provides bar code reading up to 300 meters. Thanks to the CCD sensor, reading the codes is intuitive and very fast. More
Product code: T1300 Shipping and Payment
The CCD T-1300 Wireless Code Scanner lets you read even damaged barcodes at a very high speed up to 300 scans per second up to 300 meters. From these readers, you can create a sophisticated warehouse or plant logging system. Reading the code is signaled by an acoustic or visual signal. The reader has rubber shields to ensure high durability: a repeat drop of 1.5 m to the ground. These reader models are used primarily in logistics and industry where there is frequent damage or bar code overlay when handling material or merchandise. The T-1300 reader also reads ultra-long barcodes of up to 40 digits and has an integrated memory of up to 300,000 barcodes. Intelligent data storage on the base after redetecting the signal. Thanks to the CCD sensor, it can also read barcodes from a PC, tablet, or mobile monitor, as opposed to laser technology.
What's more, the T1300 reads:
Up to 4 layers of transparent plastic cover
Barcode burst up to 3 pieces
Ripped and blurred codes
Reader Features:
Wireless design with a range of up to 300m
Memory for 300,000 barcodes
Scanning codes from PC monitors, mobile phones, and tablets
Very fast scanning of up to 300 scans / sec
Possibility to read even damaged codes
Repeated fall from 1.5 m to ground
Acoustic and visual code reading
Ultra-long barcodes of 40 digits
Types of use:
Supermarket, retail, health, logistics, postal communications, government, clothing, energy, and more.

Detailed parameters:
Range (no barrier) 300 to 400 meters
Optical source 620 nm visible red light diode
CCD sensor
Resolution ratio 2500 pixels
Image resolution ≥ 5mil
Minimal contrast ≥ 30%
Types of barcodes
Code128, EAN-13, EAN-8, Code39, UPC-A, UPC-E, Codabar,
Interleaved 2 of 5, ISBN, Code 93, UCC / EAN-128, GS1 Databar and others.
Decoding speed is 300times / sec
Bar code Sensitivity Tilt ± 55 °
Rotation ± 25 °
Deviation ± 75 °
Data Interface Port RJ-45 - USB
Mechanical and electrical properties
Dimensions (length x width x height) 92.5 x 70 x 154.6 mm
Weight 148g
Indicator Siren and LED light
Battery capacity 600mAh
Maximum power 650mw
Operating voltage DC5V
Current Max.Curren 130mA
Operating current 96mA
Stand-by current 69mA
Sleep 60ua
Charging current 450mA
Accessories list
Data cables USB Charging cable
Receiver 433MHZ
Instruction Manual 1 piece
Environment
Storage temperature -40 ° C ~ 60 ° C
Working temperature 0 ° C to 50 ° C
Relative humidity 0 ~ 95%
IP class IP52
Certificates
CE, RoHS, EMC, LVD, ISO9001: 2008, ISO 14001: 2004
Parameters
| | |
| --- | --- |
| Sensor | CCD |
| Interface | Wireless |
Download
Václav Stareček
PositivesPřečte skoro všechno. Dá se objednat příslušenství.
NegativesNevím jestli byl původní kabel vadný, ale po asi 5 měsících přestal nabíjet. Ještě že máme dvě čtečky.
---
Veronika Chroustová
Positives- rychlé skenování kódů
- velká výdrž čtečky bez nabíjení
- přečte i poškozený kód
- lehká a dobře se drží
Negatives
Last visited (1)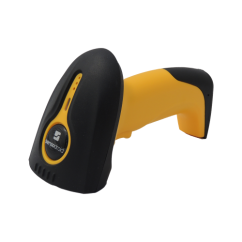 Rating value is 5 of 5
Skladem
87.04 USD
87.04 USD
excl. VAT
| | |
| --- | --- |
| Sensor | CCD |
| Interface | Wireless |
The T1300 wireless reader provides bar code reading up to 300 meters. Thanks to the CCD sensor, reading the codes is intuitive and very…