Sensodroid T-1102A Automatic Barcode Reader

Bar code reader with automatic reading function when bar code is zoomed in. You can find a stand and a USB cable to connect to your device. More
Product code: T1102 Shipping and Payment
Wired automatic barcode reader with stand. The automatic induction function ensures bar code reading without having to press the trigger, the product just comes close to the reader and it activates itself and reads the barcode. This reader is designed for operations where it is necessary to quickly read the code without touching the reader or the reader. Where the reader should always be at hand. These readers use supermarkets, mail, but also small shops or libraries. The scanning speed is up to 100 scans per second. If you still remove the reader from the stand, you do not have to worry about it, it is very durable and it can withstand a fall from a height of 1.5 m. The reader has an ergonomic handle and it fits so well in your hand. The T-760A reader reads all standard 1D "barcodes". The scanner stand can be screwed with two screws. Possibility to set the Czech keyboard. Compatibility with SW comfort.
The reader is compatible with android devices supporting OTG USB technology. For cable connection it is sufficient to buy a micro USB cable, see "accessories" below.
Reader Features:
Automatic inductive reading.
Activate the Laser when the product is nearing the barcode reader
Rack in basic package
Serial communication via USB port of COM port virtualization
Durable cover
Fast scanning
USB data cable and charging cable included
Rubber head and handle
Technical details:
Infrared induction distance 150 - 200 mm for automatic reading of the read beam
Optical source 650 nm visible red light diode
Image resolution ≥4mil
Minimal contrast ≥ 30%
Barcode types UPC / EAN / JAN, UPC / EAN with additions,
 UCC / EAN128, Code39, MSI, Code11, Code39 Full ASCII,
 Code39 Trioptic, Code128, Code128 Full ASCll Codabar, Code93,
Discrete 2 out of 5 IATA, RSSvanrians, Codabar, Chinese 2 5, Interleaved 2/5,
 Interleaved 2 of 5, and more.
Decoding speed of 100 scans / sec
Bar code Sensitivity Tilt ± 65 °
Rotation ± 42 °
Deviation ± 60 °
RJ-45 data interface port
Mechanical and electrical parameters
Dimensions (length x width x height) 92.5 x 70 x 154.6 mm
Weight (excluding cable) 148g
Indicator Siren and LED light
Maximum power 500mW
Operating voltage DC5V
Current Max.Curren 100mA
Working current 97mA
Stand-by current 77mA
450mA charging current
Accessories list
Data cable USB data cable and power cable
 
Instruction Manual 1 piece
Stand 1 piece
Environment
Storage temperature -40 ° C ~ 60 ° C
Working temperature 0 ° C to 50 ° C
Relative humidity 0 ~ 95%
IP class IP52
Certificates
CE, RoHS, EMC, LVD, ISO9001: 2008, ISO 14001: 2004
Parameters
| | |
| --- | --- |
| Sensor | CCD |
| Interface | Cable |
Last visited (1)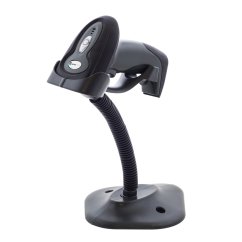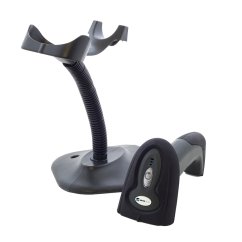 Rating value is 5 of 5
Skladem
70.75 USD
70.75 USD
excl. VAT
| | |
| --- | --- |
| Sensor | CCD |
| Interface | Cable |
Bar code reader with automatic reading function when bar code is zoomed in. You can find a stand and a USB cable to connect to your device.