Wireless barcode and QR code reader sensodroid T4080 with charging base

Wireless QR and Datamatrix barcode scanner with charging base and optical sight. It can function as a bluetooth reader or a classic wireless reader with a long range. More
Product code: T4080 Shipping and Payment
It reads all kinds of barcodes and QR codes, regardless of their orientation. The advantage of this scanner is easier reading of the codes thanks to the optical sight, which ensures that the reader is always accurately directed to the code.Read barcodes from the LCD display of a monitor, tablet or mobile phone. The code reader is wireless with a charging station to ensure the reader is always charged and ready to read codes. Includes an automatic code scanning feature when approaching the reader head without the need to press the trigger. You'll also appreciate the code scanner's three-step volume adjustment, or you can turn the beep off completely when a code is read. The 1D and 2D code scanner has a wireless interface with a USB charging station so you can simply connect it to your computer. Compatible not only with PC, but also with mobile phones and tablets ANDROID or iOS (Apple) Charging is taken care of by the USB cable, which is included in the package.
Emulation KBD(keyboard) and RS232 (serial COM port) - works also in software that use serial communication, such as Pohoda, Money, etc. in bluetooth connection using SPP.
Types of applications.
Compatible OS: Windows 10, Windows 8, Windows 7, Windows XP, Windows Vista, Windows 2000, Windows 98SE, Windows ME, Apple OSX, Apple iOS, Linux, Android and other OS.
Benefits:
1D and 2D codes
Memory for 10000 barcodes
2.4G wireless interface with base
Charging also via USB-C port
Bluetooth connectivity
Optical sight
Charging base
Automatic code scanning
Repeated drop to the ground from 1.5 meters
Audible and optical code read signal
Parameters:
Light source: 617nm visible light spectrum laser diode
Scanning speed: up to 500 characters per second
Max. code density: > 4. mil
CMOS sensor resolution: 640x480
Minimum code contrast: 25%
Communication: Bluetooth, 2.4GHz or USB
Code knowledge: automatically recognizes all commonly used barcodes, including inverted QR codes.
2D codes: PDF417, QR Code(Model 1/2),micro QR, Data Matrix(ECC200, ECC000,050, 080, 100,140) etc.
1D codes: Code128, EAN-13, EAN-8, Code39, UPC-A, UPC-E, Codabar, Interleaved 2 of 5, ITF-6, ITF-14, ISBN, Code 93, UCC/EAN-128, GS1 Databar, Matrix 2 of 5, Code 11, Industrial 2 of 5, Standard 2 of 5, Plessey, MSI-Plessey, etc.
Programmability: using programming codes
Signalling: audible and light (LED)
Operating current: 140mA
Standby current: 30mA
Memory 16MB
Battery capacity: 1400mAh
Battery life: 3-7 days
Input Voltage: 5VDC
Length: 89mm
Width: 65mm
Height: 165 mm
Weight: 135g
Wireless range 2.4GHz : 30-80m
Bluetooth wireless range : 10-20m
Number of codes read per charge : more than 100,000 x.
Package contents: barcode scanner, USB 2.4GHz charging station, USB connection cable, manual. Bluetooth adapter not included.
Last visited (1)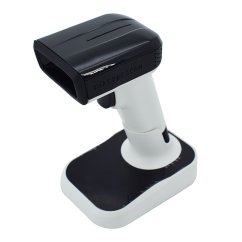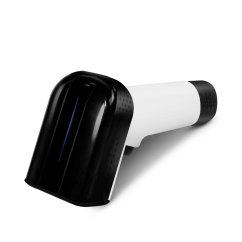 Rating value is 5 of 5
Skladem
169.02 USD
199.11 USD
169.02 USD
excl. VAT
| | |
| --- | --- |
| Sensor | CMOS |
| Interface | Wireless |
Wireless QR and Datamatrix barcode scanner with charging base and optical sight. It can function as a bluetooth reader or a classic…